Want an opportunity to get your business in the spotlight? In Your Shoes is a fun way to provide the community a personal peek inside the daily operations of your business. Chamber President Libby Gierach will walk "in the shoes" of your business for an hour and spotlight your unique business story.
Marketing opportunities include Facebook Live, videos and photos shared out through our Chamber communications outlets, including to our You Tube channel and our Facebook audience of more than 6,500 people.
Contact us today at info@hilliardchamber.org or 614.876.7666 to schedule your In Your Shoes spotlight. (For Chamber members only.)
In Your Shoes: Zippy Shell Greater Columbus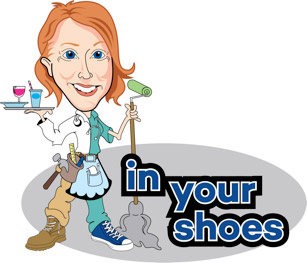 Zippy Shell Greater Columbus is a door-to-door portable storage service. Whether you are decluttering your home to sell or simply need some breathing room, they have a moving and storage service to suit. Libby recently walked in the shoes of Zippy Shell where she learned what it takes to run a forklift and so much more.
Libby has walked in the shoes of Norwich Township Fire Department, Stone Oak Resort Lifestyle Retirement Community, Fisher Wealth Management, Coffee Connections of Hilliard, Roush Ford, Homewood Suites, Grandad's Pizza, Tech Art Productions and Zippy Shell Greater Columbus.
Where will she be next? Stay tuned to find out!