HOLLYFEST ARTS & CRAFT SHOW 
Holiday shopping is already on the minds of many people.  We have the perfect event to get your gifts for any person and occasion.  On Saturday, December 4 the 38th Annual Hollyfest Arts & Crafts Show will take place at Hilliard Davidson High School, 5100 Davidson Road, from 9am-3pm.
There will 117 crafters with handmade items ranging in all categories. This event is attended by 5000 people each year and is one of the premier craft shows in Columbus. Canine Companions for Independence will be there, too! You and/or your pet may come and have pictures taken with Santa.  

More information
Want to be a Volunteer?  Volunteering at the Hollyfest Arts and Crafts Show is a great way to get to know others AND have fun while doing it. We would love to have you sign up to take a shift or two.  We will have opportunities on Friday, December 3 for set up as well as other duties on Saturday, December 4 for the actual event.  Sign up to volunteer
Thank you to our Sponsors!
Gold Sponsors:       
Silver Sponsor: Norwich Springs Health Campus/Trilogy Health Services
                            The Inn at Library Way
Registration is

CLOSED

for the  2021 Hollyfest Arts & Crafts Show 
Saturday, December 4, 2021.
Presented by the Hilliard Area Chamber of Commerce, the Hollyfest Arts & Crafts Show is the area's signature, pre-holiday event showcasing unique holiday finds from local crafters. As one of Hilliard's most popular holiday events, Hollyfest brings in more than 5,500 visitors annually. A portion of the event proceeds support our Hollyfest Scholarship Foundation benefiting Hilliard High School students. Hollyfest helps our community prepare for the holidays!
Our 38th Annual Hollyfest Arts & Crafts Show will be held Saturday, Dec. 4 at Hilliard Davidson High School, 5100 Davidson Road, from 9 a.m. – 3 p.m.
Shop Local, Support Small Business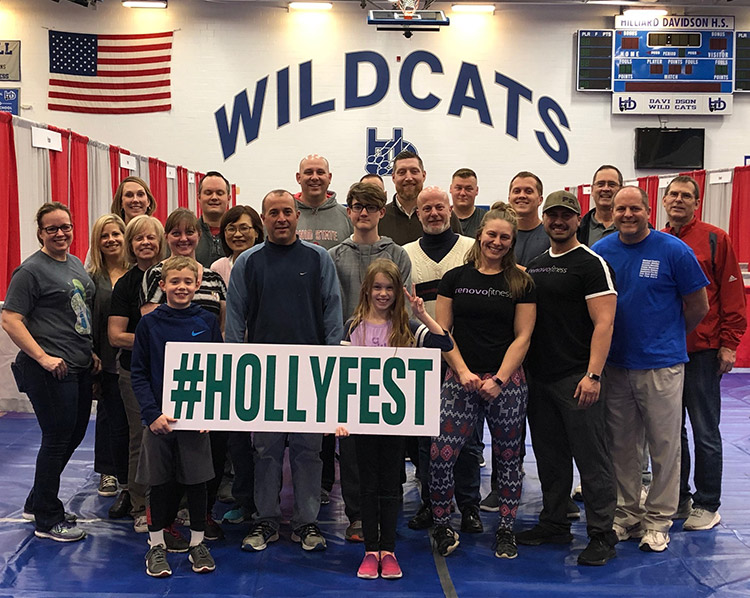 Find gifts for everyone on your list at Hollyfest! With over 100 vendors from Ohio and surrounding states, you can support many small businesses at Hollyfest. Handmade crafts and gifts will include: toys, dolls and doll accessories, clothes, jewelry, handbags, candles, soap, pottery, glass and wooden treasures, fairy garden accessories and unique food items. Our craft show wouldn't be complete without lots of OSU trinkets and wearables, too! Find a wide selection of holiday decorations for your home or office, food, drinks, pet pictures with Santa and more. Each year there is a raffle with a chance to win prizes every hour!
Cost: $5 per person, $3 for seniors and students. Children 12 and under are free. Free parking.
Want to be a vendor? Hollyfest is an excellent opportunity to showcase and sell your holiday products. Please note, Hollyfest Vendor applications are due July 1, 2021 - NO exceptions will be made. Apply to be a vendor.
The 2022 Hollyfest Vendor application will be available at the end of March, 2022.
Hollyfest Arts & Craft Show 2021 Application
It takes many volunteers to make this event successful. If you are interested in volunteering, sign up here or contact the Chamber office at or 614-876-7666
Follow our Hollyfest Arts & Crafts Show Facebook page for updates. For more information, contact the Hilliard Area Chamber of Commerce at 614-876-7666.