Welcome to our featured member business and events page! We will use this page to highlight members and share timely member-submitted news. If you have an upcoming event or business announcement, please submit information via email with one image to info@hilliardchamber.org for consideration. We love sharing our member success stories!
Want more Hilliard Chamber news? View In Your Shoes and our Monthly Newsletter.
Want more community news? See below

During the past few months, the Hilliard community vowed "We are in this together" as it responded to the challenges presented by COVID-19.  Now, as Hilliard begins taking steps toward responsible reopening, a new rallying message will represent our commitment to the future: "Move Hilliard Forward."  Please read the press release here.
Hilliard developer planning $130M mixed-use project on I-270 outerbelt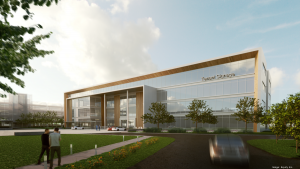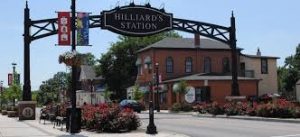 Hilliard named 2020's 8th Best Place to Raise a Family in Ohio
Art program aims to build connection between young and old.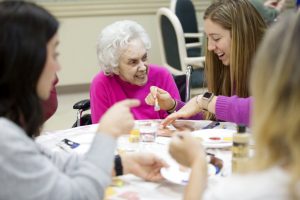 Resident of the Mayfair Village Nursing Care and Retirement Center, have the opportunity to work with students at the Dublin campus of Ohio University's Heritage College of Osteopathic Medicine. The program, Opening Minds Through Art (OMA), pairs people with dementia with a volunteer — often, but not always, a college student.  The program consists of six to eight weekly, hour long sessions. As much as possible, the same students and residents work together weekly. Creating amazing art is not the main point. It simply is the means to stimulate memory-care patients and also facilitate a relationship between young and old.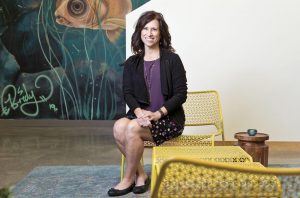 Future 50: Letty Schamp, City of Hilliard

Let's highlight small business. 30 years ago Jim Pashovich, son of an immigrant couple from Macedonia, started earning from his own passion pushing a street cart in downtown Columbus.
"Skyward Grille" was the birth of what we now know as Pitabilities, AND the famous BELLA sauce! Our concept bringing Mediterranean street food to your businesses and front doors with our 4 food trucks, to luncheons and events through catering, and now to your Hilliard neighborhood with our first brick and mortar.
Although we have been mobile for the last 10 yrs, we are thrilled to put down roots in the Old Hilliard community. In fact, Julie Pashovich (wife of Jim) was raised locally right on Center Street!
The family ties don't end there. Pitabilities values, core and menu are family derived. Along with Jim and his sons taking large roles in the business, menu items also come directly from his mothers recipes. "Baba's" rice is our newest and best selling menu "build a bowl" option. It's gained popularity with its vibrant color and versatility with all of our protein and sauce options.
What we offer-  We first and foremost  pride ourselves with fresh, local product and friendly, welcoming service. We have options for all diets and pallets. We offer the best falafel in the city as a vegetarian protein, easy gluten free options, and a kid friendly menu.
Pitabilities menu is a build your own concept starting with a base choice of rice, salad, pita, or fries with your choice of protein (locally raised chicken, steak, gyro, falafel)  fresh veggies, and house made sauces. We also offer fresh pita chips, hummus, specialty salads and dessert chips.
Our carryout and delivery options also continue to broaden. We are currently available on grubhub, ubereats, doordash, and street food finder. We also offer a take and make family meal for 5 that is not only convenient but fun for an evening at home!
Through a long evolution starting with street food and years of happy customers, Jim and the whole Pitabilities family look forward to the opportunity to provide The Olde Hilliard community with exceptional service and fresh, inspired product.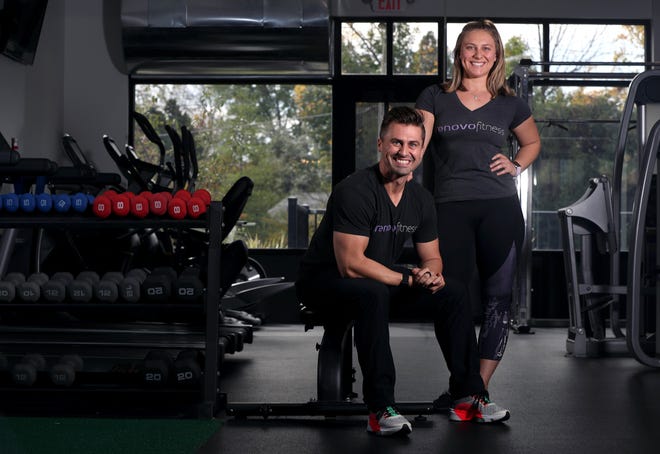 Pitabilities wraps up brick-and-mortar spot in Hilliard
Popular food-truck ompany Pitabilities now has a permanent location in the Center Street Market in Old Hilliard.
The company's creative director, David Pashovich, described the brick-and-mortar location as a fast-casual restaurant, akin to Chipotle, except with pitas. Customers also may skip the pita for a rice bowl, salad or a bed of French fries.
"We grill the food right in front of you," he said. "You can add in any fresh toppings and build it the way you want. We have a base of a couple different proteins you can get, and from there, you can build it however you like."
The restaurant opened in the Hilliard market, 5354 Center St., more than a month ago. Read the full article.
Doernhoefer siblings 'show' and 'go' at Renovo Fitness
One is about the "show," and the other is about the "go," but siblings Eric and Liz Doernhoefer each inspire the other to excel in their fitness competitions.
The Doernhoefers both are personal trainers and have operated Renovo Fitness at 5224 Cemetery Road, which is in Hilliard's Landmark Lofts mixed-use development, since November 2018.
That same month, Liz Doernhoefer, 26, of Columbus' University District entered her first amateur power-lifting competition, which in turn inspired her brother, Eric, 30, of downtown Columbus, to compete this year in a International Natural Bodybuilding Association contest, at which he earned his "pro card." Read the full article.